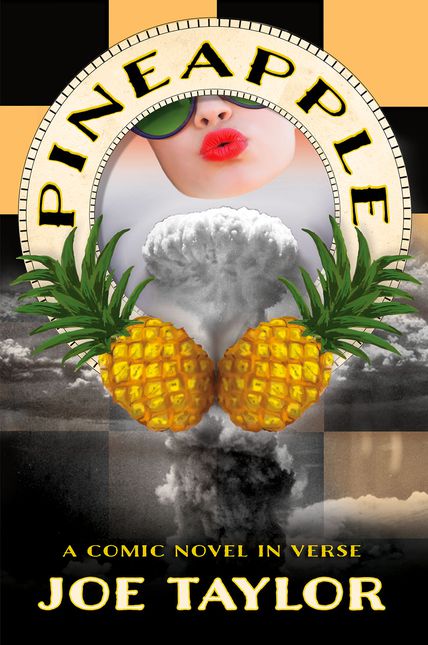 Welcome to Los Alamos, where the big-brained boys and girls are at it again. But atoms have become passé: now it's the Higgs boson, which they are using to develop a clean, efficient weapon of mini-destruction, mysteriously dropping bodies and groups of bodies into junior black holes within a fifty mile radius. Moreover, they're accomplishing this perfidy in comic rhyming quatrains. Can an intrepid group of six amateur do-gooders resolve the mystery and prevent the unleashing of this new WMD? With the help of several Doberman pinschers, a versificative Kentucky writer and his vivacious muse, Herr Morguemeister, and Verdi's Otello, a resolution seems just possible.
A delightful "episolary interaction" between Alina Stefanescu and Joe Taylor discussing the book may be read here.
Notices
"Joe Taylor's Pineapple is Chaucer for the Atomic Age: wise, bawdy, howlingly funny cultural/political commentary on the state of our state—and rhymed, of course! Aided by able muse Trixie, OBW (Our Beloved Writer) delivers a rollicking tale of mystery, mayhem, government shenanigans, lost daughters and 'writer's revenge' under a blistering New Mexico sun in a Los Alamos you'll ever after consider the real Los Alamos. What more could a reader ask of OBW and his 'dratted characters'? Not a damn thing. Follow line 23, chapter eight instructions to the T: 'Buy J Taylor's books, they'll improve your head.'"
—Kat Meads, author of For You, Madam Lenin and Ladies: First.
"Pineapple is a tour de force—marvelously witty, filled with characters a reader is unlikely to forget, hilarious rhymes and turns of plot that kept me laughing—sometimes hooting—as I turned the pages. A novel in verse is a tall order, and Joe Taylor fills it to the brim."
—Susan Ludvigson, author of Sweet Confluence (New and Selected Poems) and Trinity.