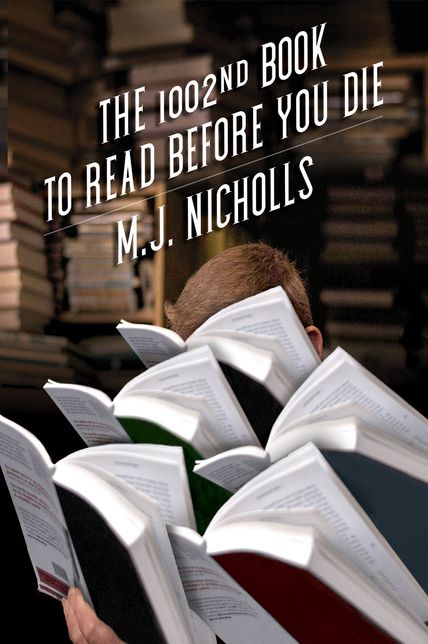 M.J. Nicholls (author of The House of Writers and The Quiddity of Delusion) returns with a novel about readers and writers in outrageous battle with fate and society in Orkney—a battle in which reality, thankfully, is the loser.
Marcus Schott, sacked from serving succour to suckers and loans to losers, leaves the office life to luxuriate in literature. His plan is to read every title featured in Dr. Peter Boxall's notorious compendium 1001 Books You Must Read Before You Die. Motoring toward a small pre-purchased cottage on the Orkney Isles, Marcus soon encounters fatal hiccups in his scheme to compress a lifetime's reading into three years. These hiccups include skittish librarian Isobel Bartmel, self-cauterising critic Raine Upright, and the unpredictable happenings of the characterless Orkney peoples, too long trapped in their bothies of banality, each pushing Marcus further from his ecstatic vision of total list completion.
A light comedy with a sunny paradisiac quality, rich in verbal virtuosity, Rabelaisian lists, and the occasional outburst of cheerful, cathartic violence, The 1002nd Book is the ultimate summer novel against summer novels: an anti-crowdpleaser with a tidy, cinematic plot that should please both crowds and all those thoroughly depressed by them.
Notices
"Overarching and embedded within the pacy, racy and often hilarious novel-in-the-novel, M.J. Nicholls offers the reader (and writer) sustained and timely reflections on the state of literature today. The compendious range of literary references, coupled with vigorous comment and critique regarding both the works themselves and the institutions through which they are produced and circulated, make this, the 1002nd (or even 102nd) book you should read before you die, a rich and an intellectually rewarding experience."
– Michael Westlake, author of Imaginary Women
"A bibliophile's delight. If I were as clever as Nicholls, I'd describe it as 'A sensational performance that takes the theatrics of a Morricone score and ties them to Sir Patrick Moore's monocle.' But I'm not, so I'll just say this is a hilarious look at the literary life from both ends—reading and writing—paraded in a maximalist style with all the postmodern bells and whistles one expects from this ingenious author. Beneath it all is a deep knowledge and love for language and literature, despite Nicholls's antic mockery of some of its creators and consumers."
—Steven Moore, author of The Novel: An Alternative History
"A brilliant companion for anyone who needs to read, particularly fiction, and muscular encouragement for you who wants to begin. Wry wit and intelligence unfold this original novel, an unparalleled advocacy of the written word. When you look back through the brambles of the last paragraphs you will see that you have been swanked onto the literary playing field by a major player, a strong new innovative voice full of the joys of reading and writing."
—Steve Katz, author of The Exagggerations of Peter Prince
"M.J. Nicholls splices Laurence Sterne, Douglas Adams, Robert M. Pirsig, and J.P. Donleavy with a Scottish twist. The 1002nd Book To Read Before You Die should be read while drinking a very good bottle of blended Scotch."
—Chris Scott, author of Bartleby and Antichthon
"The 1002nd Book To Read Before You Die is a comic novel which takes its subject matter very seriously, and demands to be read in the same manner. It is a literary undertaking which needs the reader to engage fully. To do otherwise would be to miss out on what is, at times, an exhilarating experience…. M.J. Nicholls is doing something which feels and reads as new and exciting. If you love books then The 1002nd Book To Read Before You Die is one to read, before it's too late."
—Alistair Braidwood in Scots Whay Hae
"A savage postmodern satire written with the fervour of a true bibiliophile…. wickedly funny and wildly verbally inventive."
—Alastair Mabbott in The Herald