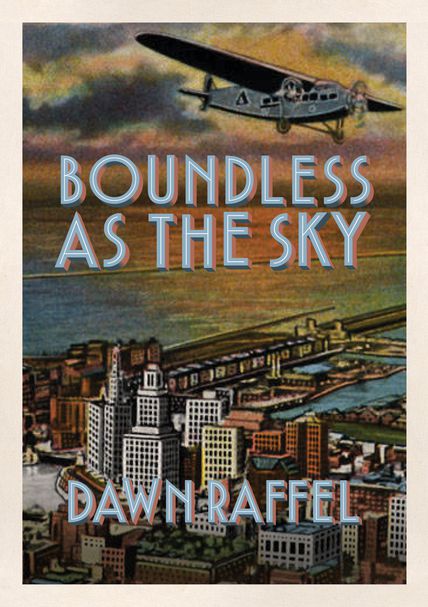 Dawn Raffel's Boundless as the Sky is a book of the invisible histories that repose beneath the cities we inhabit, and the worlds we try to build out of words. The first of its two parts, stories of real and invented cities, some ancient, some dystopian, is a response to Italo Calvino's Invisible Cities. The second part comes together into one narrative, taking place in a single city—Chicago—on a single day in 1933. It is based closely on a true event, the arrival of a "roaring armada of goodwill" in the form of twenty-four seaplanes flown in a display of fascist power by Mussolini's wingman Italo Balbo to Chicago's "Century of Progress" World's Fair. The 7000-mile flight from Rome to Chicago was lauded by both Franklin Delano Roosevelt and Hitler, at a time when aviation made banner headlines across the US, and news of the Nazis was often in a side column. The novella follows a few of the many thousands of Chicagoans there to witness the planes' arrival. These two panels of Raffel's poetic diptych call out to each other with a mysterious and disquieting harmony, and from history and fantasy to the dangers and dark realities of the current moment with startling insight and urgency.
Listen to podcast interviews with Dawn Raffel about the book on Beyond the Zero and on Gil Roth's Virtual Memories.
Read a Q & A with her with Deborah Kalb.
Read an excerpt from the book at Bookanista.
Notices
"Raffel … draws inspiration from Italo Calvino's Invisible Cities and the history of Chicago's 1933 World's Fair for this sublime collection…. This profile of a city within a city creates a Russian nesting doll of urban tableaux…. This is one to savor."
—Publishers Weekly (starred review)
"[D]iscerningly refined, sharply faceted tales…. Raffel's imaginative, poetic, riddling vignettes are spiked with word play and provocative allusions, piquantly dystopian fables with a tincture of dark humor about mothers and daughters, aging, fire, water, and ecocide collaged with startling variations on myths, shards of history, and visits to such wryly mysterious places as the vacant City of Exits."
—Donna Seaman, in Booklist
"As much a poetic as a literary experience, Dawn Raffel's sixth book is partially a homage to Italo Calvino's Invisible Cities on the 50th anniversary of its publication…. [On] a second reading (it's a short book) the impressionistic glimpses of its characters swim into sharper focus, and we can see how the beguiling otherworldliness of the 'City' section subtly persists throughout the second half, bringing out a rare poise and lyricism."
—Alastair Mabbott, in The Herald
"Dawn Raffel's newest work of compact prose and deep imagination, titled Boundless as the Sky, is a sincerely humane response to one of postmodernism's most abstract masterpieces…. Raffel sets out to explore not just imagined landscapes, but the unseen denizens who live within them. Her work finds new ground in the surprise of discovery, the wonder of achievement, and the horror of people lost within labyrinths of their own construction…. Boundless as the Sky often reaches rarified air. Raffel climbs to her creative heights when her characters feel their most complete, as if we were peering down into entire histories from 50,000 feet. Stumbling upon these thermal columns throughout the collection is simply joyous and elevates the entire work."
—Adam Camiolo, in Heavy Feather
"In Dawn Raffel's richly imagined Boundless as the Sky, democracy is far from her characters' minds as they eagerly anticipate the arrival of the 'Roaring Armada of Goodwill' at the 1933 World's Fair. Helmed by Italo Balbo, one of Mussolini's right-hand men, the Armada arrived in Chicago at the culmination of an historic seven-thousand mile journey…. Tensions in our understanding of and reckoning with the past are at the core of Raffel's book. She challenges readers to consider how we understand the past, particularly when it persists in the present…. Raffel is an incisive writer. Through the accumulation of words, images, and ideas, a layered and complex narrative tapestry rises from the page."
—Lacey Dunham, in Necessary Fiction
"This is a valuable book, worth dipping into again and again…. Which other writers might you group with this book? The mighty Calvino, the even mightier Borges, David Keenan in his most experimental guise, and Richard Brautigan gone fishing, in other words writers that give the reader space to imagine, to construct a narrative or narratives, not expecting the writer to fill in all the gaps. This book is boundless for the reader."
—Richard Clegg, in Bookmunch
"Dawn Raffel is clearly at the height of her powers. Inventive, strange, full of brilliance and light, rage and love, these mysterious histories have everything to do with where we are today."
—Deb Olin Unferth, author of Barn 8
"In Dawn Raffel's wonderful new book, fascists fly through history, our bodies are not allowed to be our selves, and freaks are everywhere. Cities are thought experiments, jewel cases, and an afternoon's carnival. A beautiful collection where the impish comedy of dark fables meets the urbane planning of Calvino and the exquisite miniatures and deft turns of language that are all her own."
—Eugene Lim, author of Search History
"Boundless as the Sky is so exceptional in imagination, form and language that I kept stopping in amazement at each marvel of observation and expression. Raffel is a wonder and we are lucky to have this new book of her fiction—dare I say her best yet!"
—Victoria Redel, author of Before Everything
"Raffel weaves historical details through her fiction, some almost as fantastical as the word pictures of the first section…. A remarkable piece of writing, wonderfully imaginative and inventive."
—Susan Osborne, in A Life in Books
"Beautifully written…. akin to reading a poetry collection…. imaginative and engaging…."
—Jackie Law, Never Imitate