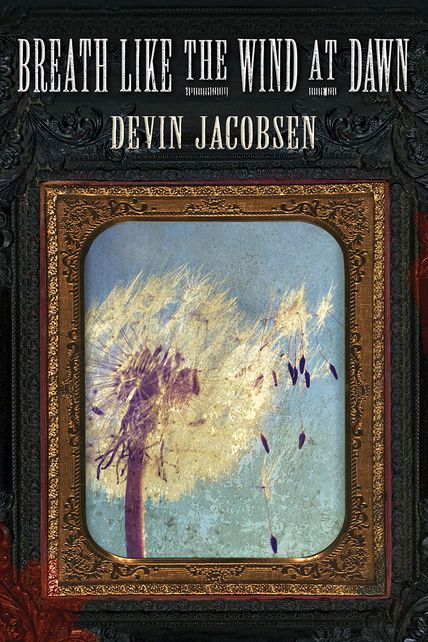 Spanning two decades, Breath Like the Wind at Dawn tells the epic story of the Tamplin family—of outlaw-twins Quinn and Irving; their brother Edward, who is on the run from a dark past; and their mother Annora, who has been left to defend their haunted Minnesota homestead. Yet at the center of the novel is Les, patriarch of the Tamplins, Civil War veteran, and sheriff of Utica, who is possessed by an indelible lust to strangle his victims. Only when the brothers set about to rob Utica's bank will the family at last converge in an unforgettable finale when blood will be met with blood.
Combining the multi-perspective family drama of As I Lay Dying with the violent lyricism of Blood Meridian, Breath Like the Wind at Dawn brings a brave new voice to American fiction.
Read excerpts of the book at Hobart, The Coil Magazine, and Vol1 Brooklyn.
Notices
"Devin Jacobsen sets out to vanquish America's myths, armed with all the humorous and rueful resources of its language."
—Joshua Cohen, author of Book of Numbers and Moving Kings
"Devin Jacobsen has written a unique, complex novel. Breath Like the Wind at Dawn showcases a young writer doing impressive things with narrative and character. A fantastic achievement."
—Kevin Wilson, author of The Family Fang and Perfect Little World
"Devin Jacobsen is a writer to watch out for."
—Zadie Smith, author of White Teeth and Swing Time
"Wonderfully interesting and full of original power."
—James Wood, author of How Fiction Works and The Broken Estate
"Devin Jacobsen's use of language is phenomenal, and quite unlike anything I have yet read. It is dark, visceral, and evocative writing delivered with an authentic ornery bite. At times it reads as of some kind of esoteric poetry dripping in simile and metaphor. The bulk of the story is delivered through streams of consciousness, awareness, and perception rather than dialogue. What dialogue there is, is caustic and bitter, smeared in humour as thick and as dark as molasses.
"These characters have been nailed firmly to the darker extremes of the morally grey spectrum. They are not root-able nor redeemable, all existing within their own cesspit of self-satisfaction and greed. This gives a glorious sense of schadenfreude at they invariably implode and receive their comeuppance.
"Phenomenal and quite unlike anything I have yet read … an intense and uniquely lyrical experience, made all the more impressive for it being a debut."
"Devin Jacobsen is an exciting new author who is crafting powerful own-rules fiction—definitely one to watch."
"It's a novel as stark and physical as its language is flowery, with gruesome violence never far from the surface. Visceral and lyrical all at once, Jacobsen's astonishing debut is a powerful and bloody Greek tragedy of a Western."
—Alastair Mabbott, in The Herald
"[Jacobsen's] writing skills show enormous depth, using language demanding interpretation, requiring slow and steady reading from the first page to the last. There is also not a single false note in the characters' dialogue."
—Jeff Westerhoff, in The Historical Novel Society
"An adrenaline-packed, over-the top tale of murder, lust, and greed…. [not] for the faint of heart."
—Charles Hively, in Southern Literary Review
"For reasons that have nothing to do with the novel's conscious echoes of Cormac McCarthy and William Faulkner — and perhaps even in spite of these immediate influences—this is a novel that should be read…. in a literary landscape where the main ambition is to be a good person after a good cause, it comes as a relief when a fiction writer goes dark and takes his characters as deep into that darkness as his prose allows. Devin Jacobsen's debut novel does just this, highlighting degeneracy so pure that it transcends hate. One outcome is the realization that irredeemable inhumanity can inspire fiction that, bereft of an agenda, is a lot more interesting to read…. the evil in this novel is so untainted by redemption that it attains a kind of beauty…. The reader's task is to confront the text sentence by sentence, slowly, as if to allow the darkness to settle in like the smell of death."
—James McWilliams, in Riot Material
"Writing in the tradition of William Faulkner and Cormac McCarthy, Jacobsen's portrait is unsparing even as it is lyrical…. an impressive, stretchingly inventive [novel], whose intensity will linger with you long after its close."
—Jessica Payn in Arts Desk
"Jacobsen's first novel is unconventional, unsettling, and unrelenting…. Breath Like the Wind at Dawn will prove an interesting, perhaps even an important, book."
—Matthew Potts in The Carolina Quarterly