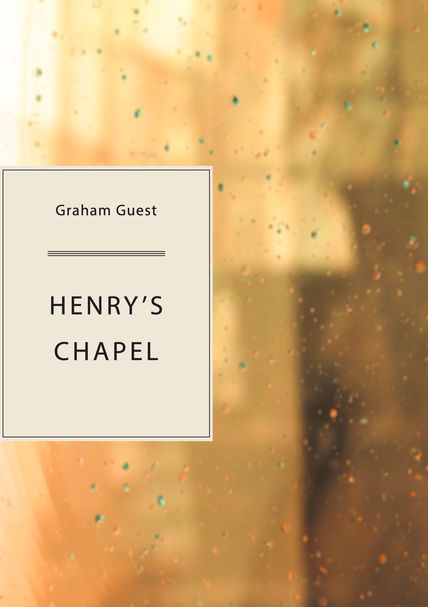 In Graham Guest's novel Henry's Chapel we watch a film by proxy, through the eyes of a narrator who offers a play-by-play account, complete with probing analysis, of Albarb Noella's Lawnmower of a Jealous God. Within this unusual frame we encounter the story of an isolated family in rural East Texas, a tragicomic tale of incest, abuse, mental illness and liberation. As meta-narrative and narrative merge into one another, the film's characters, its director, and implicitly the narrator and author themselves all become significant figures, while the film itself becomes both an immersive if ghostly medium and a distanced object of critical inquiry, its meaning and being inseparable from the metafictional organism that contains it. The final product is a kind of narratological incest heretofore unexplored.
Notices
"Meta-fiction … is an inherently inventive and transgressive genus, so engaging with the genre in innovative ways can prove challenging. What worthwhile ore is to be found that has not already been mined and displayed by Laurence Sterne or John Fowles or David Foster Wallace? To its credit, Henry's Chapel manages to turn up gem after gem…. [It] is a decidedly real and raucous masterwork about an unreal and likely unwatchable film. Only an extraordinary talent can transform a B-movie into a literary tour de force, and Guest has done so with wit, class and insight."
—Jacob M. Appel, in 3:AM Magazine
"It is difficult to come up with an easy comparison for this book in contemporary fiction. Many aspects of the book and the characters' behavior—including the southern setting and disturbing characters—will remind us of early Cormac McCarthy, particularly Outer Dark and Child of God. But unlike most novels in the traditions of McCarthy or Faulkner or the Southern Gothic, Guest's narrator is steeped in continental theory, and makes regular analytical detours into discussions of Quine, Nietzsche, and Jung to try to understand these characters and the implications of their brutal existence….
"But in other ways, Henry's Chapel, despite its meta-narrative structure and intensive experimentation, fits squarely into key strains of the American novel—this is most notable in its heavy reliance on its use of the Old and New Testament to turn Henry's story into a fable of human nature itself. The novel's opening is illustrative—a striking retelling of the Book of Genesis: here, instead of God breathing air into the world and giving life, God simply coughs up a glob of nasal drip—a loogy, to be precise—and spits it out, thus creating what we know today as humanity."
—Christopher Lura, in Heavy Feather Review
"Woven, imagined, projected out of, and fashioned in the shell of itself, Henry's Chapel is a Möbius strip of a book, an experimental take on the Southern novel. It is a relentlessly interrogative and quite literally irreverent family story: the immaculate conception is an 'incestuous conception' after all for 'the Bible entails incest: it's incest all the way down.' The Judeo-Christian creation myth is the Ur pattern, the mythopoetic DNA of the dysfunctional family. Graham Guest simultaneously studies, psychoanalyzes, and literary-critically harries this story, dialectically undoing his own novelistic embroidery, melting down and then reusing types without (somehow) undermining verisimilitude. This is a whirling read, dizzying, uneasy, and smart."
—Miranda Mellis, author of Demystifications
"Graham Guest offers just what we need in these times: a magical tale that weaves philosophical thought and the fun of a story well told."
—Leslie Carol Roberts, author of Here Is Where I Walk
"Painful and maddening, horribly funny and confusingly tragic, Henry's Chapel left me sometimes smiling, often lost in thought, and always struggling with a not quite definable sense of wonder. Like reading Pynchon on acid after you've recently taken mushrooms, Guest's writing led me to constantly seek clarity in that deeply warped place just beyond my field of vision. But I don't know. I'm asking you."
—Eric Barnes, author of The City Where We Once Lived