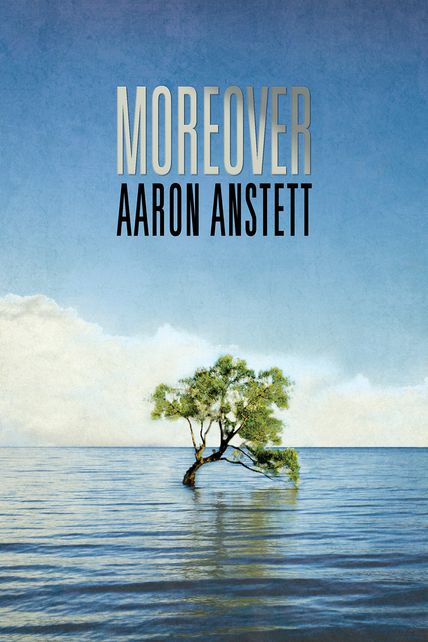 The poems in Aaron Anstett's Moreover, by turns laconic and garrulous, hard-boiled and tender, magnify gaps and unreliabilities in the surface of things through which the depths of an underlying desolation, a nameless existential care, and the mystery of love may be glimpsed; they make a swaying bridge over the abyss of loss. "Number among my umpteen flaws detached glibness," he writes; "Who would disagree that little's glitchless?" What he calls his glibness, transmitted with a compressed but graceful musicality, often attains an unsentimental lyricism all the more touching for its reticence. His audacious imagination and relentless intelligence give rise to a richly ironic humor that is often valedictory, somber, even grim, but never without profound affection and attention.
Aaron Anstett is the author of four previous collections: Insofar as Heretofore, Each Place the Body's, No Accident and Sustenance. He lives in Southern Colorado.
See Anstett read "Geographic Cure" from Moreover here.
Notices
"In an era when contemporary poetry sometimes means earnest essays with jagged line margins, Aaron Anstett's latest collection, Moreover, brings a welcome mix of longing and gladness, leavened by wonder. He is also not afraid to be entertaining…. Moreover seems to be part of a larger project to address what, for lack of a better paraphrase, I would call the unruly immensity of experience…. Don't think you have things figured out, it implicitly cautions, because there is always something else…."
—from Charles Holdefer's review in Entropy Magazine
"What makes Aaron Anstett's poems unforgettable? Is it the last known photograph of Robert Desnos, in Theresienstadt, 1945? A pigeon feather on pavement? A speaker who asks, 'Who's most dumbstruck anything exists?' No to all of those, I'd say, for what this poet gives us are not just things and their tragedies but moments in which to witness our own gestures toward life, the acts of willed and failed attention that constitute hope—a hope both breathtaking and fleeting, as the poems unfurl line by line, in a syntax built to mend, then break, then mend again, your heart."
—Susan Tichy, author of Trafficke
"Playfully and profoundly alive to sound and sense, Aaron Anstett presents a world both shaped and shifted by language. Hard, bitter, witty, wise, the poems in this volume confront a landscape of social ruin and bright horizons, where history dissolves into moments and moments resolve in wonder, or anger, or humor. Moreover mesmerizes and is a treasure."
—Janice Gould, author of Doubters and Dreamers
"Aaron Anstett has made a career of the unexpected. We're called to witness as we have before us the very essence of the spectacle of ourselves 'in history / like a robbery in progress.' Anstett's work in Moreover is both conversationally inviting and completely honest."
—John Gallaher, author of In a Landscape
"With brazen eloquence, Aaron Anstett's poems continually poke the universe for a sign. Questioning, conjuring, cajoling, entreating, his is a powerful, full-throttle advancing steeped in unflinching grace and stunned luminescence. A language that will not settle."
—Maureen Owen, author of Edges of Water