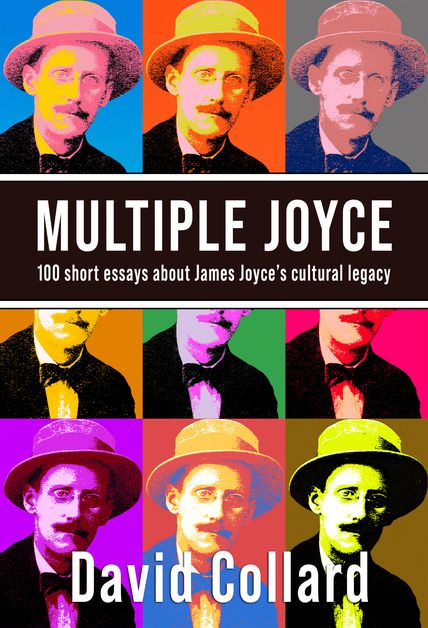 In one hundred short essays David Collard navigates James Joyce's astonishing cultural legacy in the century since the publication of Ulysses in 1922.
Holding up a funhouse mirror to our times, Collard finds a multitude of Joyces, in often ludicrous disguises, wherever he looks—whether at Ally Sloper, Borsalino hats, Anthony Burgess, Cher, first editions, Flann O'Brien, Guinness, Hattie Jacques, John Cage, Kim Kardashian, Lego, Moby-Dick, numismatics, perfume, pianos, Princess Grace, puns, The Ramones, Sally Rooney, Stanley Unwin, Star Wars, waxworks or Zylo spectacles. Endlessly reinvented and exploited, Joyce emerges as a ubiquitous, indispensable and ruthlessly commodified Everyman.
As Rónán Hession puts it in his foreword, Collard is above all "good company". Whether you're a devout admirer or wary newcomer, this surprising, unconventional handbook offers an entertaining prompt to dive into the depths of Joyce's ever-expanding universe with a new awareness that it is very much our own.
Excerpts at RTÉ, 3:AM, Business Post, The Telegraph, and Irish Examiner.
Read an interview with the author by Katy Ward in Litro Magazine.
Notices
"A rare, delicious treat for readers, and a book that would have tickled Joyce, with its vibrant potpourri of playfulness, punning, and pathos…. I defy Joycean purists not to be totally beguiled by this absorbing, upfront, funny, erudite, and charming book."
—Nuala O'Connor, in Books Ireland Magazine
"Simply charming…. His voice and his style are infectious…. Anybody who's even remotely interested in Joyce should own this book."
—Chris Via, in Leaf by Leaf (video)
"Some of the 100 essays in this rowdy exhibit hall offer intriguing trivia; others provide literary insights, and readers of all interest levels will find something unexpected to contemplate. We may already know that Joyce wrote stories, plays and novels, one of which, Ulysses, is considered by many to be 'the greatest novel of all full stop.' But were we aware that the Italian perfumer Mirko Buffini created a fragrance collection based on Finnegans Wake? Or that Joyce favored Borsalino hats, worn today by the likes of John Malkovich and Nicole Kidman? What has Moby-Dick got to do with Joyce, and why is that hyphen in the title? Collard will fill you in. These short essays exude infectious delight for a universe of such arcana."
—Lori Soderlind, in The New York Times Book Review
"This year being the centenary of the publication of Ulysses, there has been a flurry of new books and republications…. But to my mind David Collard's Multiple Joyce is the most joyful and the most Joycean…. The strategy of the book … is to take bemusement seriously…. There is a real pleasure in reading a book about Joyce that actually makes you laugh."
—Stuart Kelly, in The Spectator
"Collard is a wry and gifted essayist as well as an expert on Joyce. But he simply refuses to take himself—or Joyce, or indeed anything—too seriously…. [Multiple Joyce is] frequently bloody hilarious. It's also erudite and considered, written by a cultured soul with a highly polished proclivity for satire…. I cannot recommend this delightful, unusual work highly enough. Bravissimo."
—Anne Cunningham, Meath Chronicle
"David Collard's book reminds you, first of all, to plunge in. The novel is funny and entertaining and so is this book. If you are new to Joyce and Ulysses this is as good a place to start as a Martello tower…. You can go to a scholarly book and find accounts of the novel deconstructed, feminised, decolonialised, and culturally materialised, but this book, for me, was nearer to the truths of how we read, digressively omnivorous."
—Richard Clegg, in Bookmunch
"I wish that the first time anyone heard about Joyce was from David Collard."
—Rónán Hession, author of Leonard and Hungry Paul
"Collard's Joyce nerdiness excels!"
—Eimear McBride, author of The Lesser Bohemians
"What's the opposite of lockdown, as a noun, a verb, a state of mind? It might be, to enjoy reading, thinking, and forging connections with as much expansive conviviality as David Collard does here. James Joyce has led him a merry dance this last century, down Dublin tram-routes and through literary lineages, and Collard now takes his turn as a generous and free-thinking guide. Multiple Joyce is a tour de force of curiosity."
—Melissa McCarthy, author of Sharks, Death, Surfers: An Illustrated Companion
"Neither a Joyce scholar nor a Bloomsday amateur, Collard knows the value and risk of both approaches to the man and his books, and steers a brilliantly idiosyncratic and richly digressive course between them."
—Jonathan Gibbs, author of Spring Journal
"The story goes that a man in Zürich once asked James Joyce if he could kiss the hand that wrote Ulysses. Joyce declined, saying it had done many other things as well. Multiple Joyce is a book inspired by those other things—it fizzes and astonishes at every turn, springing Joyce's masterpiece free from the idolatry of academe and reminding us how strange and hip it must have seemed in 1922."
—John Mitchinson, co-host of Backlisted Podcast
"Written with impressive intellectual rigour but also a strong undercurrent of wit…. a most enjoyable way to learn more about Joyce."
—Jackie Law, in Never Imitate