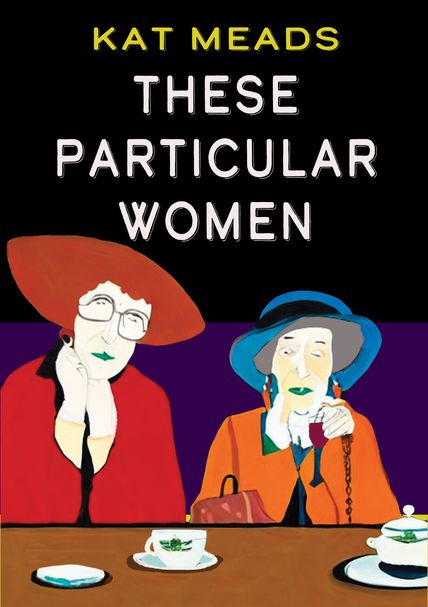 Did or didn't Virginia Woolf carry her walking stick with her into the River Ouse? Did Kitty Oppenheimer get it right on her fourth marital try? Was revenge Agatha Christie's motive when she disappeared in 1926? Could Estelle Faulkner out-drink husband Bill? Did Mary McCarthy believe her own hype? Was Caroline Blackwood a slob as well as a snob? In These Particular Women, Kat Meads investigates ten famous/infamous women and the exceedingly contradictory biographical and autobiographical portraits that survive them.
Notices
"It isn't immediately obvious what women like Virginia Woolf, Estelle Faulkner, Jean Harris, Kitty Oppenheimer, Margaret Mitchell, Agatha Christie, Mary McCarthy, Caroline Blackwood, Flannery O'Connor, and Sylvia Plath have in common. But when Kat Meads puts These Particular Women under her personal microscope, patterns begin to emerge. As she deftly sifts the historical record, Meads reminds us of the subjective, even suspect, nature of biography by refusing to hide her own motivations and biases. These quirky, exquisitely researched essays are like being on a road trip with a sly and scintillating guide, one who helps you feel the poignant mystery of a literary shrine and takes you out for a drink after."
—Susan Bono, author of What Have We Here: Essays about Keeping House and Finding Home
"What great happiness to find there is more to say about the likes of Virginia Woolf, Mary McCarthy, Agatha Christie, and Margaret Mitchell! In this delightful collection of essays, Kat Meads, assuming the tone of your favorite literary friend, brings these particular women to life all over again, along with the writer-adjacent Estelle Faulkner and the mothers of Flannery O'Connor and Sylvia Plath. A contemporary appraisal of Grace Margaret Morton (The Arts of Costume and Personal Appearance, 1943) in the age of masks includes a lovely tribute to Meads's own mother, and rounds out this absolute gem of a book."
—Liza Wieland, author of Paris, 7 A.M.
"Kat Meads's new collection of essays examines several famous (or perhaps infamous) women—the kind of women often labeled shrill, pushy, angry, bitchy. The reader who is not intimidated by a strong woman demanding her right to make her own plans for her own life will enjoy the author's quiet but often sardonic tone as she retells these women's stories by strategically quoting and skillfully questioning those who wrote about but clearly did not understand (and sometimes didn't even like) them. Kat Meads likes these women, and so will other women, who recognize how they have so often been misunderstood."
—Margaret D. Bauer, author of A Study of Scarletts: Scarlett O'Hara and Her Literary Daughters
"Your task—your quite pleasurable task—in reading this collection of essays is to decide which is more enjoyable, Kat Meads's extensive research applied aptly to each particular woman, or her snide sense of humor, which will afford you many a wry smile."
—Joe Taylor, author of Back to the Wine Jug
"Kat Meads's highly readable and astute essay collection These Particular Women is designed to leave you asking why the life arcs of these particular women so caught the fascination of the writer as a writer herself. Writers, mothers of writers, wives of writers and other famous men, they are all in some relationship to the creative life. Meads invites us to think about how differing social perceptions and expectations shaped their lives then and how they still shape our understanding of them—and ourselves—now. Especially how, as women, we are still so shaped by nice, and how this may not serve us well creatively."
—Heather Tosteson, author of The Philosophical Transactions of Maria van Leeuwenoek, Antoni's Dochtor
"Built from bits and grains and jots of detail, built impeccably from exhaustive research and in effortless prose, Kat Meads's portraits of singular, extraordinary women are particulate in the service of telling the story of whole (and wholly unknowable) women. If you love literary pilgrimages, if you yourself are a literary pilgrim, if you love stories (and stories about stories, and stories balanced like excellent hats on the heads of other stories) you will find this exploration of literary women's lives thrilling and addictive."
—Elizabeth Cooperman, author of Women Pissing
"[A] collection unlike any I've read before. They are so packed with personal, often intimate and controversial, detail about their subjects' lives that they constitute a highly articulate and intelligent form of gossip. In feminist terms, they legitimize a despised form of story-telling historically attributed primarily to women and considered ill-mannered and a waste of time, if not downright immoral. In describing through such personal particulars how these women have treated others or been treated, depicted, or remembered, Meads' work flaunts convention and demonstrates the value of considering such detail in understanding cultural influences on women's lives and on their after-lives in public memory."
—Edwina Pendarvis, in Southern Literary Review
"Meads offers up her thoughts with a light touch but still insightful viewpoints…. Meads' approach may come across as factual but there is nothing cold in her witty summations. An interesting and entertaining collection."
—Jackie Law, in Never Imitate
"These Particular Women is about vindicating women whose independent sensibilities did not align with the eras in which they lived. Their male counterparts engaged in the same behaviors, but they were rewarded for misbehaving. Meads will have none of that hypocrisy and doesn't feel she needs be earnest or well-mannered either. If this is the first Kat Meads book you read, you will get the right idea of what this rebellious spirit is up to."
—Karin Falcone Krieger, in Arts Fuse