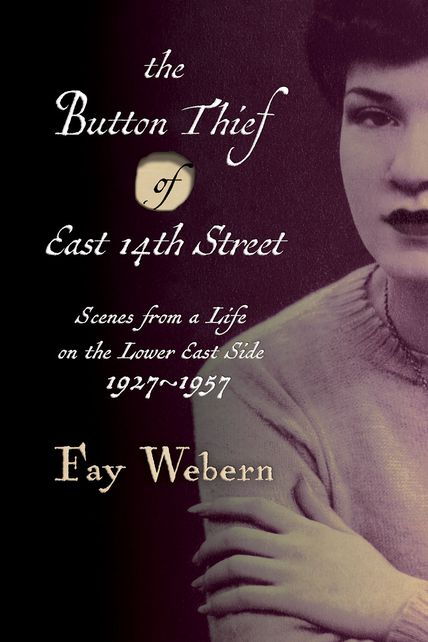 The Button Thief of East 14th Street: Scenes from a Life on The Lower East Side 1927–1957 is Fay Webern's masterful chronicle of a youth spent in one of New York City's most vibrant immigrant communities during the harsh years of the Great Depression and The Second World War. Its forty-two beautifully sculpted episodes not only conjure into vivid existence a complete world, but reveal something of the bedrock of the author's inner being, in which the irreducible hardness, the "is"-ness, of reality may be felt: the burden of survival; the "stone in the heart"; the daily concerns, serious or frivolous, erected on it; and at the same time, always, flying above, indomitable, the muse of poetic imagination and the "spirit of defiance".
The Button Thief is a joyous, magnificent achievement—an extraordinarily truthful and moving work of art, both radically personal and universal, utterly transcending the category of memoir.
You can read the first chapter of The Button Thief at Literal Latte.
Notices
"In The Button Thief of East 14th Street, Fay Webern has performed a kind of magic trick, conjuring a seemingly lost world by means of memory, language, and a handful of photos. Spanning New York's Lower East Side from the East River to the fringes of Greenwich Village, from the Great Depression through the Second World War and beyond, Webern's rigorously unsentimental memoir demonstrates definitively that it takes a village––or in this case, a utopian housing project for low-income workers—to raise a child. I love this book."
—Adam Sexton, author of Master Class in Fiction Writing
"It's amazing that well into the 21st century, we have been graced with this bittersweet, compelling, and often hilarious memoir of the Jewish Lower East Side during the thirties and the post-war era. Fay Webern's detailed portrait of this bustling neighborhood of immigrants, shops and overcrowded tenements brings to mind the work of the great Jewish writer Anzia Yezierska, although Webern has a sharper eye, and is less prone to sentimentality. With wit and affection, Webern vividly evokes the progressive housing project her family moved into, and its eventual demolition. Webern's unique personal story draws us into the very heart of the New York story, revealing the evolving experience of this influential immigrant community, so often mythologized but not always understood."
– David Winner, author of The Cannibal of Guadalajara and Tyler's Last